Heat Could Reach Dangerous Levels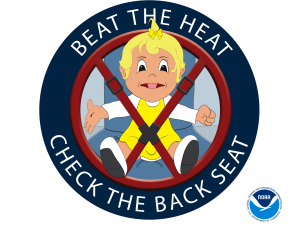 Temperatures today are predicted to be 99 degrees and heat index near 105 degrees. An Excessive Heat Watch may be issued. Scattered thunderstorms are possible this afternoon. Thunderstorms will be capable of producing damaging wind gust and large hail.
Each year, dozens of children left in parked vehicles die from hyperthermia. Hyperthermia is an acute condition that occurs when the body absorbs more heat than it can handle. Hyperthermia can occur even on a mild day.
Studies have shown that the temperature inside a parked vehicle can rapidly rise to a dangerous level for children, pets and even adults. Leaving the windows slightly open does not significantly decrease the heating rate. The effects can be more severe on children because their bodies warm at a faster rate than adults.
Source: St. Mary's County Public Information Office