Hands on with St. Mary's City's Native People
By Mallory Lengel
Contributing Writer
Posted for Historic St. Mary's City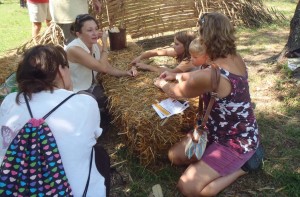 On the way down the hill past the Welcome Center of Historic St. Mary's City, visitors were greeted Saturday by the smell of campfires and sounds of Native American drumming.
The museum's Indian Hamlet was filled with children participating in numerous activities being offered as part of Woodland Indian Discovery Day.
Despite temperatures in the high eighties and the threat of storms, the turnout was good for the celebration of Native American heritage. The event offered activities including archery, canoe burning, fire starting and instruction on stone and bone tool use. Guests also had the opportunity to create clay bead necklaces and corn husk rattles and to learn from volunteers about the ways of the Yaocomaco people who once live in St. Mary's County.
Other special events included a native plant walk, a cooking demonstration, a comparison of Native American and European architectural methods and a lesson in navigation.
Sandy Smith of Hollywood learned about the event when she brought her children to the Little Explorers day.
"I love how everything here is touchable for the kids," said Ms.  Smith, who was attending for the second year in a row.
Rather than forbid guests from touching the exhibits, Historic St. Mary's City encouraged children to pick up and use tools and touch the furs in order to better understand and learn about the culture.
Volunteers explained the tanning process and the differences between each of the furs and their uses while encouraging the visitors to ask questions.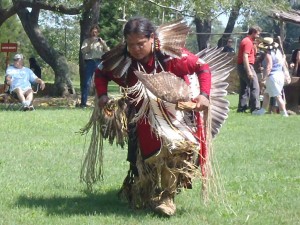 Mary Tayak led the Tayac Territory Dancers in demonstrations of Native American dance and encouraged visitors to participate. Dressed in traditional Algonquian pow-wow regalia, three dancers and one drummer drew a crowd. Children were invited to join hands and participate in the "snake dance", and to show their bravery in the warrior dance.
Anthony Yazzie, one of the dancers, said he believes that these types of events are important in order to spread knowledge of Native American culture and history.
"We've got history, but, as a lot of people say, that's HIS-story not OUR story," Mr. Yazzie said. "We're trying to educate people more about our culture and why we do the things we do."
Jean Drzyzgula, a St. Mary's College student completing her senior thesis through the museum, enjoys working at events sponsored on the grounds.
"It's great… how people really get into it, it's really fun to learn by doing," Ms. Drzyzgula said.
For more information on future events visit www.stmaryscity.org.