Treat Your Business to Halloween at Annmarie Garden
Posted by
Annmarie Sculpture Garden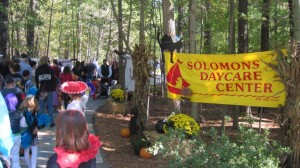 Community Builder
SOLOMONS, MARYLAND – Annmarie Garden's 13th Annual Halloween in the Garden event, Saturday, Oct. 27,  attracts more than 5,000 guests providing a unique holiday marketing opportunity for your business or organization.
Reservations have opened to reserve a booth at Halloween in the Garden. Well attended by families throughout the region, the 11 a.m. to 4 p.m. event provides a safe venue to trick or treat.
Organizations and businesses are invited to reserve a space along Annmarie Garden's lovely wooded path, hand out a gift or candy item to 2,000 – 3,000 children, while dressed up in a Halloween costume! Materials to promote your business or organization can also be distributed. Annmarie Garden will provide you with a table, an award for the most festive booth, promotion for Halloween in the Garden, and a great time!
Sponsorship opportunities are also available. Deadline to reserve your booth is October 12, 2012. For more information visit www.annmariegarden.org or call directly on 410-326-4640.