'Frankenstorm' Inbound, Officials Warn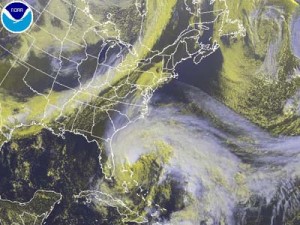 A massive coastal storm threatens to bring heavy rain, high winds, widespread power outages and a coastal storm surge to the mid-Atlantic region, including Southern Maryland, state, local and utilities officials warned today.
Both the St. Mary's County's commissioner board and the governor's office issued executive emergency orders this afternoon allowing the governments to act quickly to buy water, rent cleanup containers and take other emergency action. SHA called road crews to report for work Sunday at 8 p.m.
St. Mary's County Government, Southern Maryland Electric Cooperative (SMECO), State Highway Administration and the Maryland Emergency Management Agency (MEMA) announced that citizens should prepare for Hurricane Sandy's impact.
Wherever she ends up making landfall, Hurricane Sandy is bound to cause trouble for Southern Maryland. SHA said that, with leaves still on most trees, significant tree damage and power outages are a major concern.
"This is a dangerous storm on many levels. Trees could be damaged by heavy rains and high winds, making them susceptible to falling," said SHA Administrator Melinda B. Peters in a prepared statement. "During the storm, travel conditions will be hazardous and motorists should expect that there could be delays and detours for days after as crews clean up. "
SHA will provide real-time traffic information and storm-related road closures through Maryland's 511 phone system and at WWW.MD511.ORG as well as www.roads.maryland.gov. For more general – non storm specific information, follow SHA on Twitter @MDSHA and "like" them on Facebook at: www.facebook.com/MarylandStateHighwayAdministration.
Meanwhile, SMECO said personnel and crews are preparing to mobilize when the storm hits the Southern Maryland area. They warned customers to prepare for extended power outages.
According to Austin J. Slater, Jr., SMECO president and CEO, "This is already a massive storm.  If the center of the storm travels through our area as some weather models suggest, we may experience extensive damage.  If the center does not hit us, the rain and winds will still cause a lot of damage.  Areas along the Patuxent and Potomac rivers and the Chesapeake Bay can expect severe damage."
Slater said SMECO has contacted electric cooperatives in neighboring states for help and arranged for contract crews from C.W. Wright, Penn Line, and Pike to be here to help with restoration efforts.
"Last year, Hurricane Irene caused $7 million in damages in about 24 hours and some customers were without power for seven days," Slater said. "If the path of this storm continues as predicted, it could cause similar or more extensive damage than Irene."
Customers can get more information on the co-op's website at www.smeco.coop. SMECO customers should report power outages by calling the automated system at 1-877-747-6326 (1-877-74-SMECO).  SMECO's outage restoration policy is to make repairs that will restore service to the most people in the least amount of time. Transmission lines and substations are repaired first, followed by distribution lines that feed neighborhoods; tap lines and individual service lines are then repaired to restore power to customers who may still be without electricity.
MEMA said Hurricane Sandy is a Category One on the Saffir-Simpson scale and is located off the coast of South Carolina. She is moving toward the northwest near 13 mph. A decrease in forward speed is expected today, followed by a turn toward the north tonight and a turn toward the northeast on Saturday.
Maximum sustained winds have decreased to 80 mph with higher gusts. Hurricane force winds extend outward up to 35 miles the center. Tropical storm force winds extend outward up to 275 miles. A little weakening is forecast today, but Sandy is expected to remain a hurricane for the next couple of days. Southern Maryland is facing sustained winds of 35 miles with gusts up to 50.
The National Hurricane Center forecasts Hurricane Sandy to track northwest after passing Cape Hatteras Sunday night and make landfall in the northern Mid-Atlantic States. This could bring significant impacts to the region Sunday through at least Tuesday.
St. Mary's County government is expecting major flooding from five to 10 inches of rainfall as well as coastal flooding sustained by a full moon.
Sand, bags, and shovels will be available at all convenience centers for residents wishing to obtain sandbags in preparation.  Effective Saturday Oct. 27, this service will be available during normal convenience center hours, 9:30 a.m. to 5 p.m. Monday through Friday, and 8 a.m. to 5 p.m. on Saturday and Sunday. This is a self-serve process; staff will not be available to assist in the filling or loading of sandbags. There is a limit of 5-10 sandbags per household and shovels will be available to assist residents in the filling of bags. Supplies are based on a first come first served basis. Approximately 1000 sandbags and 10 tons of sand will initially be made available at each site. This service is only available at the convenience centers and will not be available at the St. Andrew's Landfill.
Convenience Center locations are:
Charlotte Hall – 37766 New Market Turner Road
Oakville – 26630 North Sandgates Road
Clement's – 24547 Horseshoe Road
St. Andrews' – 44595 St. Andrews Church Road
Valley Lee – 45350 Happyland Road
Ridge – 13939 Point Lookout Road