Family, Friends Honor the Memory of Nick Potts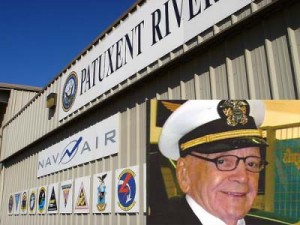 Scores of family members and friends gathered at the Patuxent River Naval Air Museum in Lexington Park, Maryland Thursday to mark the passing of Lt. Cmdr. Nicholas Thomas Potts (Ret) and share their memories of his career at Naval Air Station Patuxent River.
"You cannot sum up a whole life in a few words," said Matt Hall, pastor of South Point Church in Leonardtown and the officiant of the memorial service.
Mr. Potts' granddaughter, Melissa Ann Potts, gave it her best try, saying, "He was a fun person to be around. He was always making us laugh and telling us stories."
Lt. Cmdr. Potts, 88, of Lexington Park had a wealth of stories from his 45-year active duty and civilian Navy career as a jet engine mechanic, flight engineer and Limited Duty Officer. According to the obituary released by his family, Lt. Cmdr. Potts joined the Navy in 1940 and traveled the world with Patrol Bombing Squadron 74 and Airborne Early Warning Squadron Two, serving 27 years on active duty.
"He got to see our country go from little fighter jets to huge stealth bombers," Ms. Potts said of her grandfather. She also noted that he was an avid historian and traveler. "He taught me a lot. I am really going to miss him."
Lt. Cmdr. Potts was well known at Naval Air Station Patuxent River. According to his obituary, he served as Pax River's first civilian Aircraft Maintenance Officer. When he retired in 1985, his friends recalled that the base commander declared it to be "Potts River Day."
"He knew everyone at Pax River, and everyone knew him," one friend testified at the memorial.
Pastor Hall read a letter from Rear. Adm. Randy Mahr, commander of Naval Air Warfare Center Aircraft Division, marking Lt. Cmdr. Potts' passing. Rear Adm. Mahr wrote, "He put himself in harm's way so that you and I and our families and friends could live in freedom."
Lt. Cmdr. Potts died July 3 and is survived by six children, 12 grandchildren and 13 great-grandchildren.
"Nick left the world a better place," Pastor Hall said. "We're here to celebrate a life well lived."