Little Explorers Autumn Gatherings
Posted by
Historic St. Mary's City
Leading Edge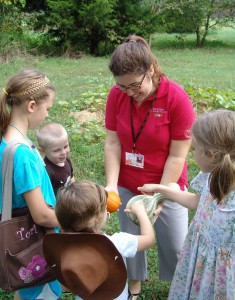 St. Mary's City, MD –  Historic St. Mary's City's popular Little Explorers program for preschoolers is continuing through the fall.  Children ages 3-5 and a parent will enjoy a variety of activities with a seasonal flair.  Most gatherings include a story, a song, a craft, and a visit to one of the museum's living history sites.   The schedule for the remainder of the season follows:
October 17 -  The Little Red Hen -  Cluck, scratch and lay an egg!  Chickens are interesting birds; visit the Plantation chicks and find out why.   Meet at the Godiah Spray Tobacco Plantation.
November 7 – Merry Mice – Is there a mouse in the house? Visit the Plantation cat.  Will he chase the mice coming in from the cold?  Meet at the Godiah Spray Tobacco Plantation.
December 8 – Circle of Holidays – Discover the  holidays celebrated at this time of the year – Chanukah, Christmas, Kwanzaa, and others. Discuss their commonalities – light, food, song and presents!  Meet in The Shop at Farthing's Ordinary.
Little Explorers programs run from 10:00 a.m. – 11 a.m. Admission is $4 per child for non-members and $3 per child for Friends members. Accompanying adult are free!  For more information, contact the museum at 240-895-4990 or info@stmaryscity.org.