Map the Future You Want

By Viki Volk Publisher
A strategic plan is a map to the future you want, according to Jolie Bain Pillsbury, president of Sherbrooke Consulting. And whether that future is a globe free of terrorism, the building of a community's infrastructure or bulking up the 401k to be there when you want it, the steps are largely the same.
Mel D. Powell, executive director of the Southern Maryland Higher Education Center wrote this week about the visionaries who created the center that now hosts nearly 100 programs in higher learning. What he didn't write was that in the early 1990s, to all but a very few, the notion of a top-flight center of world-renowned colleges and universities congregating in St. Mary's County was inconceivable. That such a campus could perch upon a knoll of build-able land overlooking an airport could not be visualized.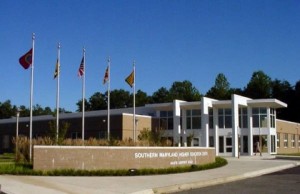 But it happened. It happened in less than five years. Not two decades later its strategic position within the infrastructure of Southern Maryland is coveted. Today it's location and mission, the two pieces at the heart of the center's strategic plan, still remain key to the successful leveraging of the  economy generated by the naval air station.
Mr. Powell provides a brief synopsis of how "community leaders implemented a vision for a center for graduate education in Southern Maryland." It reads like the answer sheet to the five questions Ms. Bain says must be answered to devise a successful strategic plan.
What is our purpose? Visionaries or not, deciding upon a campus designed to attract tenant institutions seeking engineering students was not a slam-dunk at the time. There were many ideas about how to meet higher education needs and there were  competing interests, as there always are. Other pressing needs for roads, schools and public services were making much larger headlines than higher education in the early 1990s.
Instrumental in the Higher Ed Center's success was its champions' ability to coalesce the needs into a final,  single vision. They needed a campus and their purpose was to set about locating and building one.
Where are we now? The Higher Ed Center was nowhere, that's where it was in 1991. Locals officials facing a population spike were struggling with inadequate schools, inadequate roads, inadequate parks, inadequate garbage handing and inadequate zoning.  The Higher Ed visionaries turned to state government for help to accommodate the windfall population Maryland was receiving of high-tech, high-paid employees from Virginia and Pennsylvania. And they talked to developers looking at the anticipated growth.
Where do we want to be in the future? Ultimately, they didn't want to be in the higher education business, they wanted to be in the landlord business. Choosing this option allowed the committee to concentrate on a single task. Building a facility.
What do we need to do and how will we do it to get to the future we want? They got their message down to a single item and then they lobbied. It sounds so ridiculously simple in retrospect, but it wasn't. They talked it up, talked it up, talked it up. State office holders from all three Southern Maryland counties were lobbied by an ever increasing number of believers. Within their venues the military, defense contractors, local businesses and increasing numbers of citizens made the case as well. Once a momentum was created it became obvious how many teachers were commuting to College Park to maintain their certification credentials. Health workers attended classes in Baltimore.  Everyone was in favor of a Higher Ed Center that so far wasn't costing them anything.
How do we turn planning into action and results? They chose a fast, tried and true approach and forced the materialization of bricks and mortar. They got a nice hunk of land donated from a developer able to recognize the economic benefit of the campus. This helped them convince the state to borrow money to build a building. The center was created by legislation in 1994.
In the proverbial words of a local commissioner who served during this era, "They got the camel's nose under the tent." They hadn't put a plan in place to address the costs of administration. It was anticipated in a vague sort of way that, ultimately, the costs were destined to be covered by the tenants. It proved a contentious detail in the immediate aftermath.
In the synopsis, Mr. Powell quotes Winston Churchill saying, "It is a mistake to look too far ahead. Only one link in the chain of destiny can be handled at a time."
Destiny in this case indicate the Higher Ed Center's visionary planners' strategy successfully delivered both missions. The construction and within a short time span the operational structure as well.
The Southern Maryland Higher Education Center has prospered and grown, adding a second classroom building in 2003 and poised to add a third. It operates as an independent state higher education entity with a 13-member Board of Governors appointed by the Governor of Maryland and representing the three Southern Maryland counties.
Good job.