DAISY Award Winner Delivers Compassionate Care
Posted by MedStar St. Mary's Hospital
Leading Edge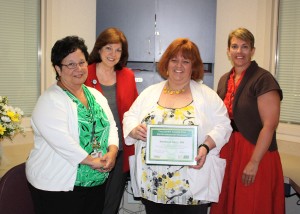 Patty Hall, a registered nurse in the Intensive Care Center and a patient care supervisor at MedStar St. Mary's Hospital, received a Daisy Award in recognition of her clinical skills as well as the compassionate care she provides to patients and their families.
Jennifer Blake Meyer, Hospital Foundation president, presented Hall with the award in a ceremony held on July 9.
Hall was nominated for selflessly sharing her own personal loss to aid a patient in addition to providing compassionate care. The nurse's professionalism and extremely considerate actions made a positive impact on her patient's life.
The nurse received a certificate that read, "In deep appreciation of all you do, who you are and the incredibly meaningful difference you make in the lives of so many people." She also received a sculpture entitled, "A Healer's Touch," as well as a cash gift. The award is sponsored by the Hospital Foundation.
The not-for-profit DAISY Foundation, based in Glen Ellen, Calif., was established by the family of J. Patrick Barnes, who passed away at age 33 in late 1999. The care he and his family received from nurses inspired this means of thanking nurses for making a profound difference.
For more information on the DAISY Award, or to submit a nomination, please contact Liz Schaeffer, director of Nursing Resources, at 301-475-6536.