Cops to Top the Donut Shop for Special Olympics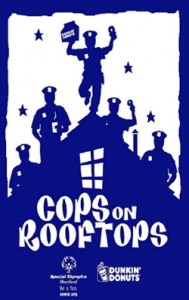 Cops love supporting Special Olympics and, stereotypically, cops love donuts. So on Saturday, Sept. 29 from 7 a.m. to noon and Sunday, Sept. 30 from 7 am to noon the St. Mary's County Sheriff's Office will be hosting the annual "Cops on Rooftops" event in support of Maryland Special Olympics at the Dunkin Donuts located in California, Maryland.
The Dunkin' Donuts Cops-On-Rooftops is a statewide fundraising event. Local law enforcement will be on the roof and in the restaurant raising awareness for the Law Enforcement Polar Bear Plunge and Law Enforcement Torch Run which both help to raise funds in supports Special Olympics. In addition, the officers will also be showing their support for our local Special Olympics athletes, provide information on Maryland's Special Olympics and encourage others to support Special Olympics by becoming involved and/or making donations.
All funds raised remain locally to support St. Mary's County Special Olympic Athletes. Please join us for a morning of fun and good food.
For more information on how to become involved or donate please contact one of the following individuals at 301-475-4200 plus their individual extensions:
Detective/Cpl. David Alexander – Extension 1955
Sergeant Brain Hartz – Extension 2278
Ms. Kathy Kreps – Extension 1950
Source: St. Mary's County Sheriff's Office