Celebrate Riverfest at Historic St. Mary's City
Posted by Historic St. Mary's City
Leading Edge
ST. MARY'S CITY, MD — Celebrate our waterways at RiverFest with free activities, entertainment, and learning about the environment.  The eighth annual event will take place at Historic St. Mary's City (HSMC) on Oct. 13 from 11 a.m. until 5 p.m.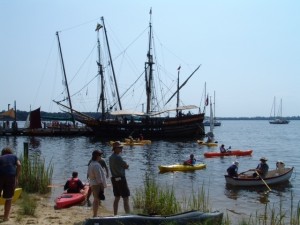 Step aboard a tall ship, paddle a kayak, and help skipper a small sailboat. Try tonging for oysters or tying sailors' knots. Join former State Senator Bernie Fowler for the annual Wade-In, an informal measure of water quality.
Non-stop music will set the beat as you visit informative exhibits. Make some new fine-feathered and finned friends. Discover things you can do in your own backyard that help preserve our unique landscape. Take home a free Conservation at Home booklet for more opportunities to save waterways. Join a paddle-in organized by Fresco Adventures.
Contact Marcia at fun@frescoadventure.com or (301) 352-5272; kayak and lunch are included in the fee. Vendors will be on site offering snacks, beverages, and meals for sale throughout the day.
A preliminary list of scheduled performances and activities follows:
Noon                Indian Summer
1:00                 Magpie
2:00                 Chesapeake Charter School Chorus
3:00                 Wade-in & Spring Ridge Rhythm Club
3:00                 Joe Norris
4:00                 Don Kenefick
Paddle in or drive in to Historic St. Mary's City (47414 Old State House Road, St. Mary's City), rain or shine, for a day of free fun and learning.  Be sure to save time to explore the living history exhibits at HSMC.  During RiverFest, admission is free!   RiverFest is sponsored by the St. Mary's Watershed Association, Historic St. Mary's City, and the generosity of local businesses. Learn more at http://smrwa.org/riverfest.html.