It's the Little Things That Keep a Car Healthy
Posted by Mark's Automotive
Pax III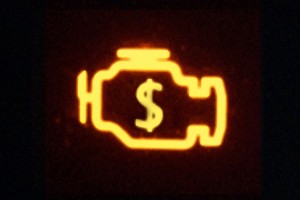 So, yeah, we're all busy these days. If we're not running to work, we're running to lunch or to meetings or to school or to soccer practice.
Our cars are essential to all of this running, but many of us don't really pay attention to our vital transportation until a light comes on or we hear a really terrible noise. By that point, the bill for getting us back to all of our running around is pretty steep.
Thankfully, there are a few cheap things that, when done regularly, can save you from vehicle breakdown and lost time.
The most simple and most frequent thing you can do is keep your tires pumped up. Tire gauges are cheap and can be found at just about every big box store or automotive shop. Check your manual for the proper tire pressure and do a quick check while you are waiting for your gas tank to fill up. Most gas stations have an air compressor you can use for free or a small fee to fill your tires. Properly pumped tires save gas mileage, because they are easier for the engine to turn. They also last longer, since the tread wears evenly.
And while we're on the subject of tires, unless you plan to go off-roading on the weekends or live in a nearly vertical dirt driveway, you do not need aggressive tread. All weather truck tires give your vehicle better contact with most road surfaces, transferring more of your engine's energy to motion and saving you gas.
Oh, and when you're done checking your tires and go back to retrieve the gas pump nozzle, resist the urge to "top off" the tank. Best case scenario – you're soothing a mental tick. Worst case scenario – you can foul your car's vapor recovery system, which protects the environmental air quality and prevents expensive gasoline escaping from your tank.
Get oil changes. It's a chore, but it's one of the cheapest things you can do to extend engine life and put off having a new car payment. A good rule of thumb for oil changes on most newer vehicles is every 5,000 miles, although high-performance synthetic oils and filters can go for 10,000 or more. A change of oil removes the grit and water that accumulates in the engine oil, but, more importantly, it replaces the filter, which is responsible for keeping damaging particles from wearing down the engine's moving parts.
Other filters that need regular changing are the air and fuel filters. These filters help prevent grit from getting into your engine in the first place, and need to be functional so that your car's computer doesn't tell the engine to burn too much gas. You can change your air filter every one to two years or every 20,000 to 30,000 miles, depending on your local air quality. Fuel filters are more durable, but you should start having them checked after a car is six or seven years old, since rust can start forming in the fuel tank.
Air and fuel filter replacement can be done as part of tuneup maintenance every 30,000 miles. Tuneups can also include changing transmission fluid (an oil change for the car's gearbox) and replacing the spark plugs and wires. Changing the spark plugs and wires helps the car to explode gasoline more efficiently, giving you better gas mileage.
If you need a tune up, oil change or new tires, stop by Mark's Automotive in Lexington Park, Maryland, and we'll be glad to help.