The Bus to Fame and Fortune to Visit CSM
Posted by the
Community Development Corporation
Bay Leader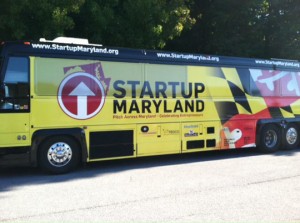 Everything from an inventor (whose wife insisted he participate) to a strategic planning consulting firm will pitch themselves and their dreams in a mobile video studio parked Tuesday, Sept. 18 at the Leonardtown campus of the College of Southern Maryland and thus enter a competition designed to bring entrepreneurs in Maryland in touch with financing for their ideas and businesses.
"Let's have some fun with this," said Robin Finnacom, CEO of Community Development Corporation, revving up the Lexington Park Business and Community Association. Her goal is  to  drum up online voting to get St. Mary's entrepreneurs the support they need to win a chance to pitch their ideas at the November Entrepreneur Expo.
The Pitch Across Maryland bus is sponsored by Startup Maryland and is rolling across the state in search of entrepreneurs. Sept. 18 is the bus's day in Southern Maryland. The bus is equipped with a mobile video studio where entrepreneurs will record a 3‐5 minute business pitch promoting a unique invention, product, service or idea in search of investors. These videos will be posted online for public voting for the most promising innovations to be found across Maryland. The top 16 vote-getters will qualify to pitch at the November Entrepreneur Expo and vie for the Winner and Runner-up positions.
Ms. Finnacom registered the hopefuls, noting that LPBCA Chairman Mark Pinekenstein's company, Compass Systems will be competing.
Compass Systems engages in all government and Navy acquisition program phases and primarily focuses on military avionics systems, unmanned vehicles and surveillance and video/imagery solutions. Mr. Pinekenstein said one of the products they had developed has potential commercial application. The company would like to "open the conversation" with experts in transitioning a product from government application to commercial success. "That's not our schtick," he said.
Also among the five registrants Ms. Finnacom had received by last week, were two inventions. One man, she told the LPBCA meeting,  told her he had a patented invention but  only called because his wife told him to. "It's fun to see people coming out of the basement," she joked.
"Like American Idol," said Barbara Saylor, vice president of PNC, California Branch.
Information on how to view the videos and how to cast your vote will appear here in The Leader and also on the Community Development Corporation's website.
The Startup Maryland Pitch Bus will be at the Leonardtown campus from 1:00 p.m. till 3:00 p.m.