Barefoot Gets New Look, Features for Web Site
Posted by Barefoot Graphics
Choose Local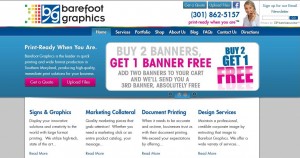 If you haven't been to the Barefoot Graphics web site in a while, you might want to give it a visit.
Within the last year, the local printing company has expanded its physical capacity with a move to Lexington Park, made a splash with a Chamber of Commerce honor and has also bolstered its online presence. It was able to add a more common .com address to its .net address and has increased its web site functionality to allow customer collaboration on large projects.
Customers can now upload files (in batches, if necessary) and get quotes on larger jobs.
There are also new options to sign up for the company's newsletter, follow the company blog, get directions to their new F.D.R. Boulevard location, and find the answers to frequently asked questions. Barefoot has also compiled a portfolio of their best work.
And, of course, you can still go shopping for the latest deals on everything from flyers to banners to vehicle wraps. The company just began offering "PhotoFAB 54″ wall coverings, an adhesive-back fabric which sticks to any non-porous flat surface and removes easily with no residue or damage for sharp-looking, seamless graphics and superior photographic images.
"Barefoot Graphics produces immediate printing services for companies that value a superior corporate image," said Josh Frauenfelder, Barefoot's general manager, explaining the company's renewed focus on online client support.
Mr. Frauenfelder said many companies in the local technology corridor are turning to Barefoot to produce everything from marketing slicks to large format tradeshow displays.
The new website can be found at barefootgraphics.com.