Artsfest '12 Coming September 15-16
Posted by
Annmarie Sculpture Garden & Arts Center
Community Builder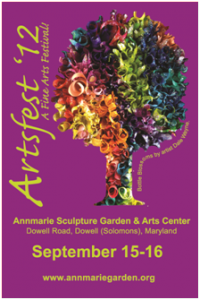 SOLOMONS, MARYLAND – Annmarie Sculpture Garden & Arts Center (Annmarie Garden) will host Artsfest '12, a Fine Arts Festival, for all ages, on September 15 & 16, 10 a.m. – 5 p.m. Each year Artsfest brings more than 150 artists from across the U.S, who specialize in jewelry, ceramics, paintings, photographs, fiber, and metal. Over 12,000 visitors shop, eat, and play while enjoying the eclectic mix of artists, performances, and hands on activities (for all ages) within the picturesque, beautiful Annmarie Garden. A multitude of specialty food vendors add to the event, providing delicious food for every taste.
The live music commences as Artsfest '12 opens with more than 25 acts performing on the main stage, within the lovely Council Ring, inside the Arts Building, and throughout Annmarie Garden. Special performances include folk rock musicians Yellow Tie Guy and the Slim Harrison & the Sunnyland Band, a roots and kids participatory jug band, on the Main Stage.
New to Artsfest '12 is the Artsfest Bus, provided by Thomas and Sons Transport. The Artsfest '12 bus will travel from Annmarie Garden to the center of Solomons Island every 30 minutes on Saturday, September 15, 2012, for drop-off and pick-up! Transportation is free, timely, and enables guests to enjoy all of Solomons!
Artsfest '12 guests can purchase a t-shirt with this year's colorful design. The Artsfest '12 design, titled Dancing on Joy's Horizon, is inspired by the work of Floridian artist Dale Wayne. Ms. Wayne spent the summer at Annmarie Garden building the five bottle blossom trees that make up Dancing on Joy's Horizon. Hundreds of Annmarie guests assisted Ms. Wayne by painting and glittering over 1,000 recycled plastic water bottles that were used to adorn each tree.
Admission to Artsfest '12 is $6.00 per person. Annmarie Garden members and children 11 and under, are free. Parking is free and abundant and is located in the field adjacent to Annmarie Garden. A handicap pick-up and drop-off is located at the front gate, please follow the signs.
Artsfest '12 is a family-friendly and environmental friendly event, however no pets are allowed during special events. For complete event information and a $1.00 off coupon, visit www.annmariegarden.org or call 410-326-4640. Annmarie Garden is located at 13480 Dowell Road in Solomons, Maryland.