Art Blooms at Annmarie Gardens Next Week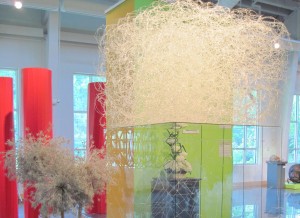 Tickets are now on sale for the Art Blooms Gala Reception on Friday, July 13, 2012, 6:00 p.m. – 10:00 p.m. at Annmarie Sculpture Garden & Arts Center in Solomons, Maryland.
The summer evening of  live entertainment, delicious food provided by Canard's Catering, and amazing art celebrates the season midst floral arrangements inspired by two ongoing exhibits at Annmarie Garden, Treasured: Honoring Precious and Vanishing Worlds and My African Community: A Collection of Photographs & Stories, 2000-2010.
Tickets are $55 per person for Annmarie & Calvert Garden Club Members; $65 per person for non-members. Visit here to purchase your tickets or call 410-326-4640 for more information.  All proceeds will benefit the artLAB, Annmarie Garden's newest educational program and creative reuse center.
The Art Blooms Gala Reception is co-hosted by the Calvert Garden Club and Ann's Circle, Inc. of Annmarie Garden.  The Art Blooms Honorary Committee,  Congressman Steny Hoyer, U.S. House of Representatives; Dr. Joshua A. Bell, Smithsonian Institution; Commissioner Pat Nutter, Board of Calvert County Commissioners; Mr. Wilson Parran, Former Calvert County Commissioner; Professor Lisa Scheer, Department of Art & Art History, St. Mary's College of Maryland join Annmarie Garden in inviting you to attend and enjoy the evening.
Source: Annmarie Gardens