Tour Archeology Digs at Historic St. Mary's City
Posted by
Historic St. Mary's City
Leading Edge II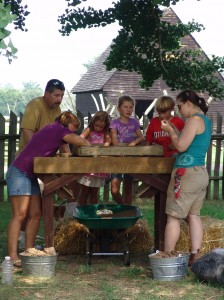 St. Mary's City, MD   Get down and dirty with the past helping screen excavated material with archeologists digging history at Historic St. Mary's City during the 2012 Tidewater Archaeology Weekend, July 28 and 29.
Tour excavations at the site of Maryland's first state house and discover what the soil reveals about Maryland's beginnings. Visitors are invited to help screen excavated material and see what bits of the past you recover. Archaeologists will help you interpret the stories that each piece tells. An exhibit of artifacts recovered from the site will be on display. Those who follow the director of archaeology's blog about this year's findings  may see some of the pieces they've been reading about.
Take a break at an Archaeology Film Fest featuring shows filmed at HSMC. Learn more about Project Lead Coffins; find out what the BBC's Time Team found in the old City; and discover the Written in Bone exhibit on display at the Smithsonian Museum on Natural History. Shows will run from 1 to 4 p.m. each day in the Visitor Center auditorium.
Take advantage of a once-a-year opportunity to tour the archaeology laboratory. Discover what happens to artifacts after they are unearthed. Space is limited, be sure to sign up at the Visitor Center (18751 Hogaboom Lane, St. Mary's City) when you arrive. Tours begin at 11:00, 1:00, 2:30, and 4:00.
While you're in the City, be sure to visit the St. John's Site, Maryland's premier archaeology museum and one of the most important historic sites in the state. It will be open from 11 a.m. – 4 p.m. Get the inside scoop on St. John's by touring the exhibits at 1:30 p.m. with the senior staff archaeologist, who directed excavations on the site. Sign up at the Visitor Center when you arrive.
The excavations will be open from 10 a.m. – 4 p.m. on Saturday and Sunday. Admission ($10 adult; seniors $9; youth (6-18) $6: under 5 years and Friends members free) includes access to special activities, living history sites, and the St. John's Site Museum.   For more information about the museum and its programs visit www.stmaryscity.org or contact 800-SMC-1634, 240-895-4990, or info@stmaryscity.org.