4.8 Million Americans Now Hold Security Clearances

Morning Coffee is a robust blend of links to news around the Internet concerning the Pax River economic community. The opinions expressed here do not necessarily reflect those of the Leader's owners or staff.
Up to 4.8 million people now hold security clearances, up from 4.2 million in 2010, according to Secrecy News.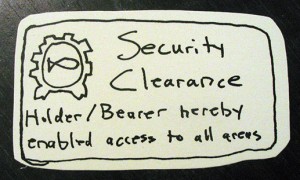 Industry leaders are preparing to rally against sequestration in Northern Virginia this week, The Washington Post reports. Politico pins the blame for cuts on Obama. The Examiner blames Congress. And The Hill says Obama blames Congress.
DoD Buzz sees foreign sales becoming another point on the Iron Triangle.
Defense Industry Daily is running a survey on the perceived performance of prime contractors.
Japanese protesters greet the arrival of the V-22 Osprey, according to Defense News. The Navy begins using the V-22 aboard carriers for resupply and rescue (paywall), according to Inside Defense.
Three of the crew of the downed MH-53E Sea Dragon in Oman survived, Navy Times reports.
Navy moves its NGEN computer system bid deadline back to August, Washington Technology reports.